L.B. Foster Company's portfolio consists of specialty trackwork, turnout packages, switches and accessories, frogs, transition and restraining rails with additional innovative products coming.
L.B. Foster Company can deliver a wide variety of frog and switch materials that meet every track requirement from light, medium, to heavy traffic. Our warehouses, located throughout the U.S., offer shipments of light, standard and heavy tee rail sections, crane rail, frog and switch material, tee rail accessories and tools. 
Turnout Package
L.B. Foster Company can supply a turnout package in many ways. A turnout consists of switch points, stock rails, heel blocks, frog, guardrails (if necessary) and a switch operating device. Your turnout package can include all steel components only, completely panelized or assembled, marked, and disassembled for transportation.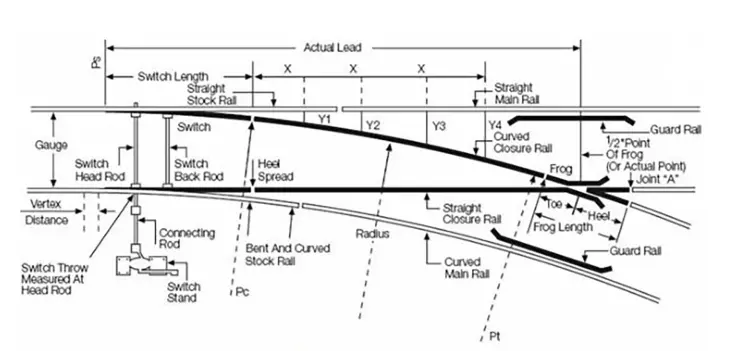 The diagram illustrates the principal elements of a single turnout which consists of a frog, a switch, two guard rails, straight and curved closure rails, stock rails, and switch stand. Switch rods, combination side plates, braces and accessories may be varied to meet your specific trackage requirements.
Specialty Trackwork
L.B. Foster Company can supply specialty trackwork including but not limited to, track crossings, switch point derails, and crossovers.
Switches and Accessories
L.B. Foster Company can supply non-reinforced, single reinforced, and double reinforced switches designed to carry light, moderate, or heavy traffic. Switches and accessory items listed below are those most commonly specified. Most of these comply with AREMA and industrial specifications and designs can be modified to meet any requirement. 
16' 6" double-reinforced AREMA plan 112 – this heavy-duty switch complies with American Railroad Engineering Maintenance-of-Way Association specifications for 90 lb. rail and heavier and is suitable for mainline use. 

L.B. Foster standard turnout – the L.B. Foster standard turnout is designed for heavy duty service at the lowest possible cost with simple installation. 

Solid manganese self-guarded frogs, straight split switches, 4' - 8 1/2" gauge — 90# rail and heavier. 

Switch stands.

Switch point guard. 

Switch heel block assembly. 

Switch gauge plate with rigid or adjustable braces. 

Adjustable combination solid riser slide plate; combination solid riser slide plate and rigid brace; combination welded plate and rigid brace. 

Guard rail and switch rods. 

Adjustable side jaw clip; single hole side jaw clip and rocker clips with insulated vertical switch rods. 
 Frogs
L.B. Foster Company can supply various types of frogs including: 
Rail-bound Manganese Steel Frogs – shall be used on heavy traffic lines where traffic is approximately equal on both sides of the frog. 

Solid Manganese Flat Top Steel Frogs – may be used as alternative to rail-bound manganese steel frogs.  

Self Guarded Solid Manganese Frogs – shall be used in yard tracks. May be used in main tracks where speed does not exceed 30 mph. Note: Guard rails may be used with self-guarded frogs when conditions justify. 

Bolted Rigid Frogs – may be used in yard and industry tracks where traffic is light on both sides of the frog, but only when self-guarded frogs are not available, or when desirable to utilize available secondhand frogs. 
 Transition and Restraining
Transition Rails - Transition and compromise transition rails are specially manufactured track components that allow the safe and efficient connection of two different rail sections. Normally transition rails are used to connect new rail to rail of a different rail section with head wear. Transition rails are fabricated from one rail section with the railhead planed or machined to conform to the worn rail section. Compromise transition rails are fabricated from two rail sections with a special forging joining the two rail sections. This forging occurs on the end of one of the two rail sections being joined. 
Transition and compromise transition rails are used to replace both compromise welds and bolted compromise joints. 
Restraining Rails - Restraining rails are used to improve vehicle curving performance, reduce the risk of a flange climb derailment and to control wheel and rail wear. 
L.B. Foster Company can provide various designs of restraining rails. Common designs are U-69 and T-Rail. 
Light Trackwork
L.B. Foster Company can supply turnouts, rails, and accessories for 20 lb. to 85 lb. light rail trackwork in any gauge. Our single-source service offers savings in initial cost, installation, and efficient track operations. Where trackage is used in one location, then moved as work progresses, some light rail turnouts and parts can be pre-assembled for portability. Components are manufactured to American Mining Congress Standards or modified for industrial applications. 
We also supply the following components. 
Connecting rods.

Switch stands.

Steel tie sections and accessories. 

Steel ties.