L.B. Foster owns and operates a fleet of trains to ship continuous-welded rail (CWR) to railroads and transit agencies throughout North America.
For track replacement and expansion work, railroads and transit agencies remain committed to transitioning from the use of stick rail — or individual pieces of rail that require joints — to welded or ribbon rail. Welded rail results in a safer, smoother track that requires less maintenance.  
As railroads and transit agencies continue to outsource more functions, including offloading rail, L.B. Foster is continuing to meet that demand by offering a range of services, including project management, and unloading supervision on every CWR train. L.B. Foster also can furnish full unload crews and equipment when requested to help reduce unloading times to as short as one day. This is particularly important for customers that are continuing to move towards precision scheduled railroading.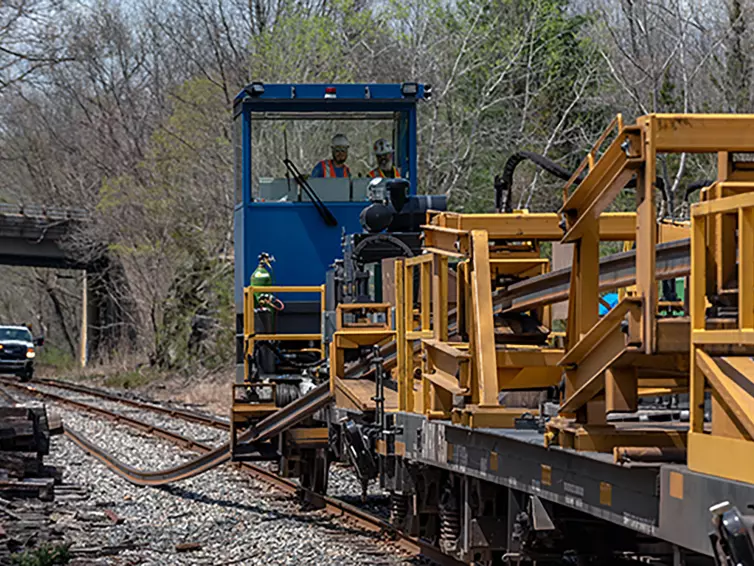 New Rail
L.B. Foster Company is the market leader in the distribution of new rail and accessories throughout North America, supplying rail for heavy haul, industrial, low density and passenger/transit applications. Sourced from several major US mills, L.B. Foster can supply rail sections from 90-lb. to 141-lb., generally in lengths of 39 ft., 40 ft., 78 ft. or 80 ft., depending on the rail section weight. In addition to stick rail, if the job requires continuous welded rail (CWR), we can provide not only the welded rail, delivered to the jobsite on our own trains, but unloading services as well. The list below highlights the various rail sections offered by L.B. Foster.  
Click on the files below for additional specifications:  
NOTE: Rail is rolled to the following specifications and is designated as either:  
    A.R.A.-A. = American Railway Association, Type A [High Rail for High Speeds]  
    A.R.E.M.A. = American Railway Engineering and Maintenance-of-Way Association  
In addition, L.B. Foster offers a number of rail accessories:  
Joint Bars  

Rail Joints  

Angle Bars  

Compromise Joints  

Tie Plates  

Track Spikes  

Track Bolts